How to visit us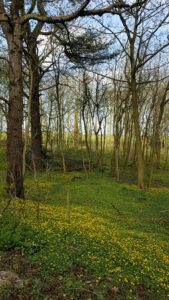 Brizlincote is a relatively new Parish;  it is one of 7 new Parishes created in Burton on Trent in 2003, occupying land formally of Stapenhill and Winshill.  Our Parish boundary map can be viewed here.
Situated to the south-east of Burton, Brizlincote is a popular residential area, over-looking meadows and woodland yet well placed for easy access to the two closest towns of Burton and Swadlincote.
With the A511 and the A444 running along it's boundaries,  and the A38  and A50 a few miles away, it offers accessible routes to local motorways the M1, M5 and M42.  This local road network means that you can visit places such as Derby, Nottingham, Lichfield, Birmingham, Leicester and Stoke on Trent all within an hour.
Brizlincote truly offers the best of both worlds; it is well placed to reach local towns, cities and amenities, yet, with being located in the heart of the National Forest, you will never be far away from stunning woodland and rolling fields.
Burton on Trent's central location ensures the train station includes direct routes to Derby, Nottingham, Lichfield and Birmingham, as well as many other locations across the country, so you can still access many places nationwide without taking the car.  The bus network ensures you can reach other local areas easily too, with regular routes from Brizlincote itself and neighbouring Parishes of Stapenhill and Winshill.
You can even enjoy a scenic walk from the centre of Burton on Trent; follow the path behind the College to cross the iconic footbridge straight into Stapenhill Gardens, which is minutes away from the Brizlincote Parish Boundary.  With the River Trent running alongside Brizlincote's western border, there are numerous walking routes that take you directly to the heart of the Parish.
The entire Parish of Brizlincote has a National Speed Limit of 30 mph, and our Parish Council actively encourages residents and visitors to drive safely throughout the Parish.